Looking back at our 2018 Weddings
THE GOOD, THE BETTER AND THE BEAUTIFUL!
Well wow, what a wonderful year of weddings! When the business started, my wedding work usually consisted of coming in at the end and hand lettering gorgeous name places and signs; but 2018 really was the year that I got to sink my teeth into some stunning full wedding suites.
Working on weddings lets you get to know fantastic people at a really happy time in their lives, when everything feels exciting and they're on the cusp of a new adventure. I think I am always really overwhelmed by the couple's gratitude and enthusiasm whilst working on their designs and its all too easy to get swept up in their excitement. I find myself checking the diary during the wedding season and imagining my lovely couples at their different venues and eagerly checking their social media for any glimpses of dresses or photos after the big day - perhaps I get too invested but how can you not! So as the first blog post of 2019 (and actually my first ever blog post so please be gentle), I thought it would be great to look back over some of the real highlights of the Orange Pippin wedding year!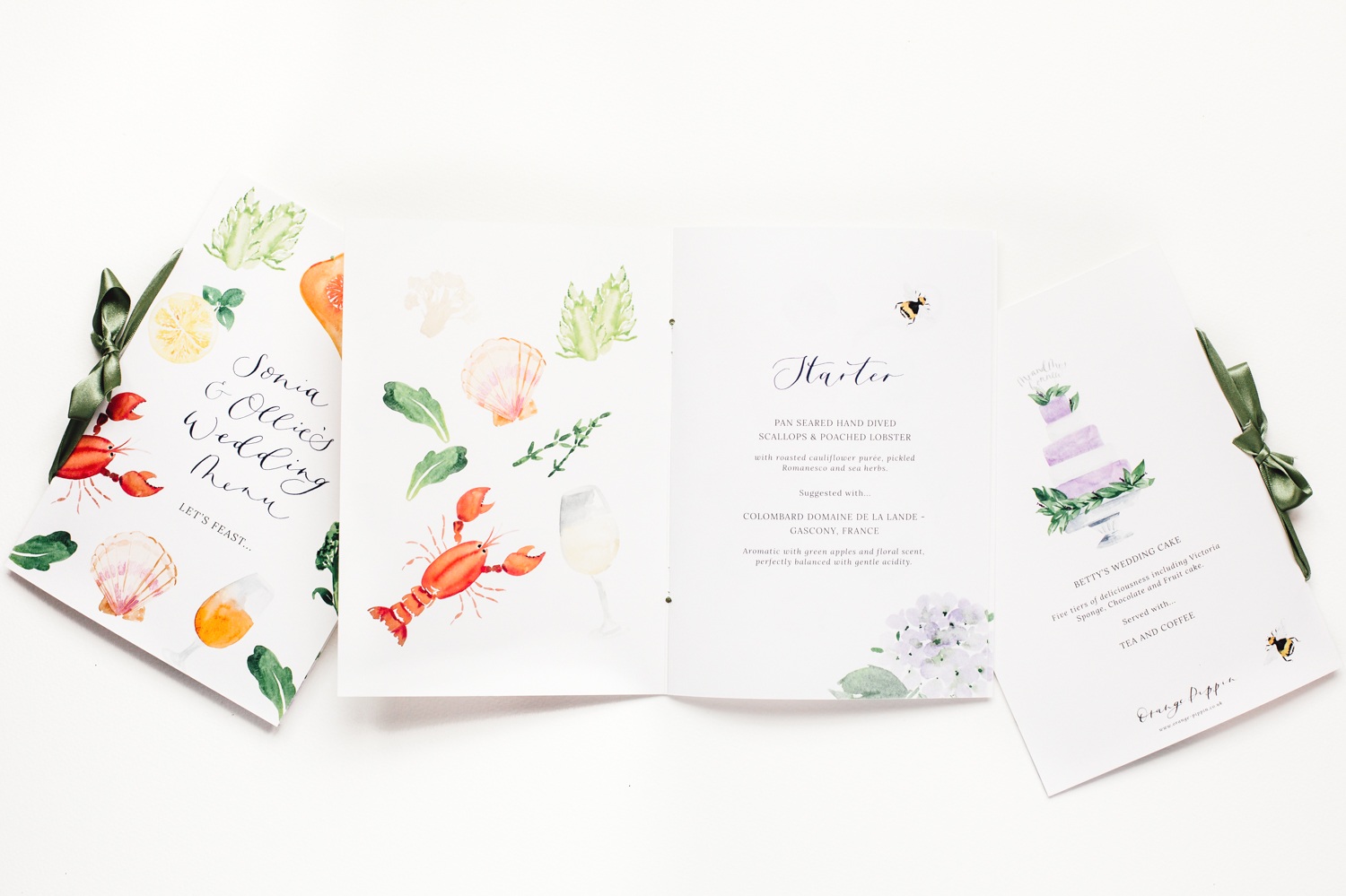 Where better to start than the wedding of Sonia and Ollie Connew. Their whole suite was beautiful, following the theme of their wedding flowers of hydrangeas, eucalyptus and lavender; but the real show stopper was the menu! An 8 page A5 booklet featuring bespoke watercolour illustrations of the ingredients for each meal and hand lettered calligraphy for each page. I showed them a variety of designs for the cover which matched the invitations' purple and green colour scheme and had a sophisticated elegance to them; but then I sneakily slipped in a bright and colourful option that was bursting with fun and I was so excited when they chose it! The menu not only looked great (a not-so-humble brag there) but it also sounded great with the most delicious food options I've ever seen for a wedding. All tied up neatly with a green ribbon on the spine as the finishing touch!
From food to foiling! This gorgeous suite belongs to Imi and Ant who are due to tie the knot this year and allowed me to go all out on the fancy finishes. Working with Imi on their invitation suite was a dream, she had such a clear vision of her colour scheme, florals and overall wedding vibe that it left us more time to focus on how to really refine those ideas. It culminated in a bespoke crest, watercolour floral illustrations, envelope liners, hand lettered envelopes in rose gold ink as well as my favourite for this suite.. rose gold debossed foiling! All in all the whole suite came together perfectly and I am very excited to get started on their On The Day Stationery this year.
And the final wedding to share from 2018 is a destination wedding which focused completely on their venue.. the Welsh coast. The greens and purples of the land against the blue of the ocean worked perfectly together and were a colour scheme not often used in weddings which had a very stand out result. I illustrated the coastline in watercolour and the colours bled into each other for a very fluid and natural design. For added detail, maidenhair fern illustrations were used throughout to provide a little nod to the florals from the day. This suite belonged to Sarah and Dave who ended up having the most beautiful week celebrating with family and friends on the beach and the fields of Wales that I had the best fun illustrating!
So there you have it.. 3 very different but brilliant weddings I was lucky enough to be involved with in 2018. There were many more created throughout the year and you can see these in the Weddings By Orange Pippin section of our site. For your own special wedding project then get in touch; I'd absolutely love to work with you and later squeal over your gorgeous wedding photos and gossip about how your day went!
All photos were taken by Alexandra Wallace who is both a commercial and wedding photographer. Her work is truly stunning so you should definitely take a look at her websites www.alexandrawallace.co.uk & www.alexandrawallaceweddings.co.uk !